Richard Prince, the living memory of pop culture | Art and design | Guardian Weekly
: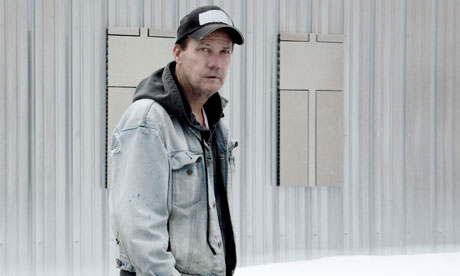 "Artist Richard Prince probably owns the world's finest collection of modern American literature: the copy of On The Road that
Jack Kerouac
dedicated to Neal Cassady; a copy of Naked Lunch with notes by
William Burroughs
; the letters Truman Capote sent to Perry Smith before his execution; the manuscript of the Godfather by Mario Puzo; the screenplay of Paths of Glory co-authored by Jim Thompson and Stanley Kubrick; a letter from Thomas Pynchon to a friend; early drafts of songs by Jimi Hendrix. But Prince also has a collection of pulp fiction, erotic cartoons, invoices submitted by writers, cheques including one for $40 that Kerouac sent to Allen Ginsberg."
... Prince
has frequently been sued
. He is the leading proponent of
Appropriation art
, a 1970s movement that involves recycling then signing photographs or paintings by other artists. He has, for instance, cut out magazine photos, re-photographing, reframing, enlarging or shrinking them, painting on top and adding text. Famous Prince appropriations include a snap of
Brooke Shields
naked, aged 10, and Marlboro adverts.
Prices rocketed after his 2007 retrospective at the
New York Guggenheim
, outraging the authors of the original photographs. "The subtext is clear," Rubin explains. "It's unfair these photographers should only be paid $500, whereas Prince gets $1m." Prince has won all but one of his court cases. Last month a Manhattan federal court judge
ruled against Prince in a copyright lawsuit
for using 40 photographs by the French photographer Patrick Cariou to produce his Canal Zone series, which was exhibited at New York's Gagosian Gallery in 2008. Prince plans to appeal.