Uni Watch looks at championship bling that wasn't just rings - ESPN
: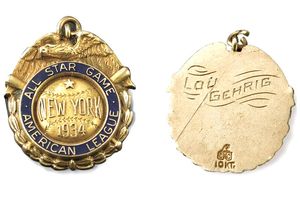 "Fortunately, there are other kinds of sports bling out there.

Those photos are from the collection of Bruce Menard, a 41-year-old from Connecticut who got bitten by the bling bug when he attended baseball card shows as a kid."
But the thing about a true collector is that he keeps collecting even when the collection is complete. In Menard's case, that meant delving into the sub-world of sports-related cuff links, charm bracelets, cigarette lighters, you name it. Soon he'd amassed more than 1,000 images of such trinkets.
Of course, some of those trinkets are better than others. Asked to choose some favorite examples of non-ring bling, Menard came up with the following list [of ten items]: