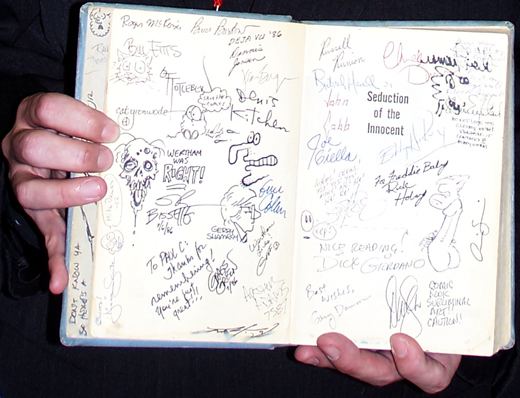 Micro-comics artist
Paul Edgar Curtis
was kind enough to show us autographs from cartoon artists that he has collected since the 1970s -- inside of a book about
the damaging effects of comic books
. Easily the coolest thing that we saw at the 2011 MOCCAfest at the Lexington Avenue Armory last weekend.
UPDATE (April 23)
: Paul emailed us to say that he has seen other copies of this book used for autographs. So he's going to go through his book and share images and stories about all the signatures which will, by the way, establish a provenance for the first and authentic comic book autograph book.
Paul organized/participated in the Micro-comics segment of the market when the classic underground cartoons were passing the pinnacle of their popularity. The niche for MICRO-comics appears to be making a strong revival, with dozens of 8-1/2" x 11" folded or stapled small-format comic books and Zines to be found at
MOCCAfest 2011
.
See also: Paul E. Curtis in a photo at MOCCAfest 2011
Result of 7 years of scientific investigation into the effects that comic books have on the minds and behavior of children who come in contact with them. Dr. Frederic Wertham's ideas on the harmful effects created by media-induced violence resonate with those who are concerned by the searing of our cultural fabric. Includes new Introduction by Wertham scholar, James E. Reibman, Ph.D.
Seduction of the Innocent - Amazon
This is the book that started comic book censorship by proposing the elimination of the genre all together.
| | |
| --- | --- |
| Works: | 82 works in 84 publications in 1 language and 85 library holdings |
| Classifications: | pn6728.55.m48, |