Swann Auction Galleries : Full Details for Lot 190
: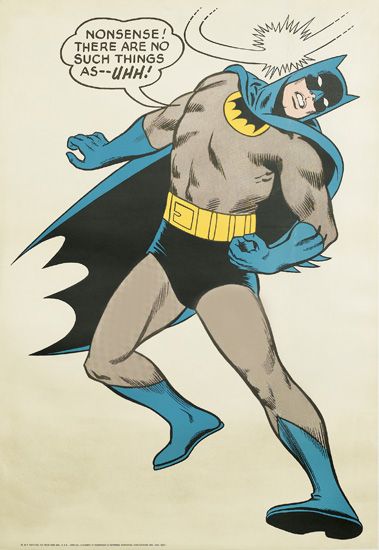 "DESIGNER UNKNOWN BATMAN
'NONSENSE! THERE ARE NO SUCH THINGS AS--UHH!' 1966.
39 1/2x27 inches, 100 1/2x68 1/2 cm.
In the late 1960s a new type of poster emerged around the world, consisting of decorative ephemera; a by-product of the flower people, peace movement and student protests. This larger-than-life crime fighter would have suffered the same fate as the million other images printed at the time: they disappeared, being thrown away, ripped apart or kept in very poor condition. Paradoxically that now qualifies this image as 'rare.' Estimate $500-750"
UPDATE: Lot 190 sold for $1,300
These are the two companion pieces to this series of posters
produced by
G. & F. Posters [Washington] DC, 1966
[via
jhalpe.com
]
Related articles
http://www.jhalpe.com/artists/view/1056